Hotel Valet Parking Services
PMSA Provides Hotel Valet Parking in Los Angeles & Orange County
Contact PMSA for your hotel's parking facility!
Hotel valet parking offers a number of benefits, including the incredible convenience factor. Guests do not have to walk from a far-off parking space, nor will handicapped guests stress over getting from lot to venue. Time management is a benefit as well, as guests won't spend precious minutes searching for a parking spot.
Valet parking is also very helpful during inclement weather, and provides the ability to pack more vehicles into a given space, i.e. "stack parking". The valet can park vehicles two or more deep and move them as necessary, as he or she holds the keys.
Hotel Parking Solutions
"Lane stacking" is another option utilized by valet parking attendants, which is helpful during events where guests arrive at the same time, such as a wedding or other similar special event. Lane stacking keeps the lane of oncoming traffic moving forward so guests may avoid long valet service wait times. Stacking is done by appointing one or two of the valets as "stackers" who move each car up about 50 feet and ready them for quick "takeaway" by returning valets. This procedure is repeated until all vehicles are parked.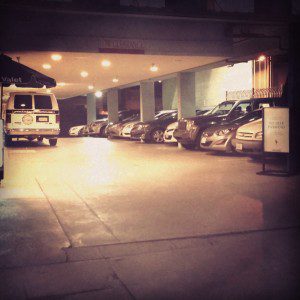 What is another benefit of hotel valet parking? Valets park vehicles closer and straighter than some guests. This saves parking lot or garage space, and avoids the inconvenience of "cramming" and having to go to different floors.
The insured professional valet attendants at Parking Management Services of America are knowledgeable about nearly every make and model of car under our sun, which includes quirks such as keyless ignition vehicles and aftermarket alarm systems. The company outlines and implements parking strategies that handle the expected number of cars and guests, which may include greeters, stackers, parkers, and car location marking systems. Shuttle services for valets working larger venues are occasionally provided to shorten vehicle return time following the event's end.
Service Rates for Hotel Valet Services
Parking Management Services of America's rates vary by venue depending on a number of variables. In order to address and accurately outline logistics for the hotel valet parking service, we will need to schedule your property for a parking consultation survey. As a parking operator with in good membership standing with the National Parking Association (NPA), you and your hotel's visitors will remain confident knowing that Parking Management Services of America abides by their code of ethics.
Regardless of venue, our hotel valet parking services include:
Garage keeper's legal liability insurance policy with high limits available for most commercial venues
State approved worker's compensation insurance policy
All applicable permits including D.O.T., parking occupancy tax, and Police Commissions
Certificate of insurance with any additional interests for the property owner or property management
Parking lot surety bond of a minimum of $10,000 per venue in addition to our regular coverage
Fully uniformed valet parking attendants
All required parking management equipment such as traffic cones, lock boxes, jumper cables, and signs
For more information on our hotel valet parking services, please give us a call at 1-800-552-PARK (7275) or 818-546-8586. You may also contact us online.