New City of Los Angeles Valet Parking Law
There is a new City of Los Angeles Valet Parking Law that can adversely affect your conditional use permit, and it requires immediate compliance.
The following article was written by Stephan Allen Jamieson and explains some of the effects of the new ordinance passed by the City of Los Angeles Valet Parking Law.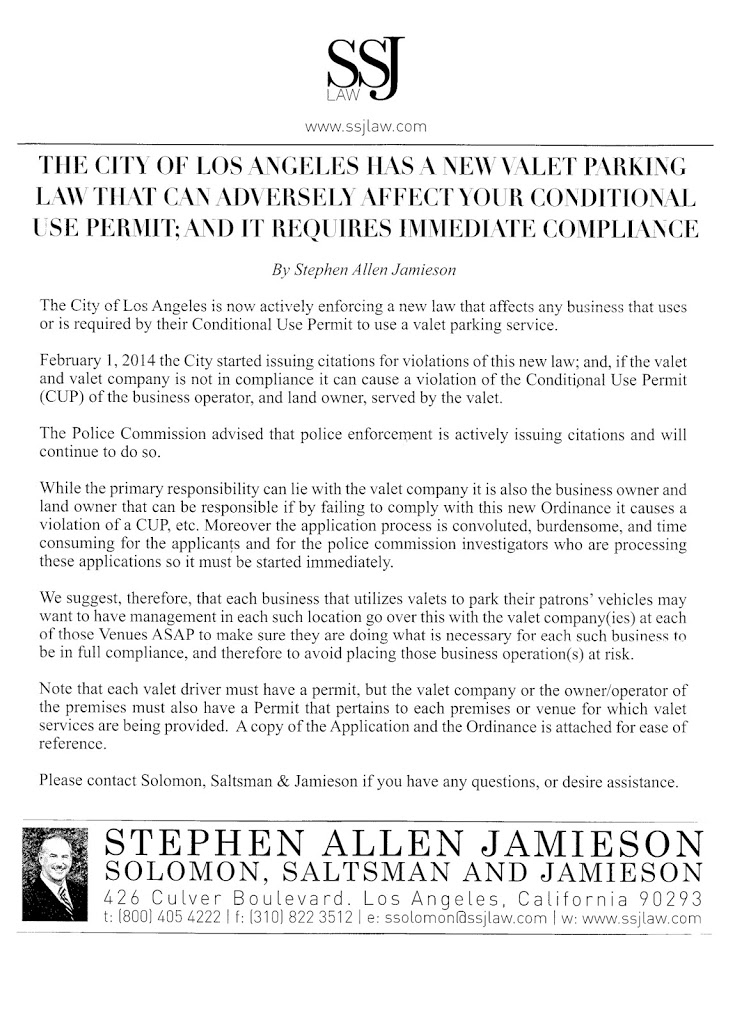 Parking Management Services of America is in full compliance with this new law affecting all valet parking operations in the city of Los Angeles. This new City of Los Angeles Valet Parking Law is now in full force. Parking companies operating without the needed permits from the LAPD will be cited and forced to shut down, thus effecting the businesses that they are providing the valet parking services for. Furthermore, this ordinance would require a valet parking operator in Los Angeles to obtain a permit, carry liability insurance, provide proof of off-street spaces for parking cars and ensure that valet parking attendants have valid California driver's licenses. The ordinance would prohibit operators from using public street parking without permission and from blocking traffic.
Recently,
NBC conducted special investigations exposing rogue valet parking operators
throughout some of the city's most troubled areas. Because of these investigations, businesses that are shopping to hire valet parking services in Los Angeles are strongly encouraged to select a company that has a Master Valet Parking Operator (VPO) Permit granted by the Los Angeles Police Department. This VPO permit will allow the parking operator to obtain an additional VPO Permit specific to the business that will need their valet parking services.
If your business has concerns pertaining to your existing or upcoming valet parking service, you may 
contact us
 and our management team will be happy to explain what you should look for. As a member of the
National Parking Association
(NPA) and the
Better Business Bureau
, Parking Management Services of America will help direct your business accordingly.